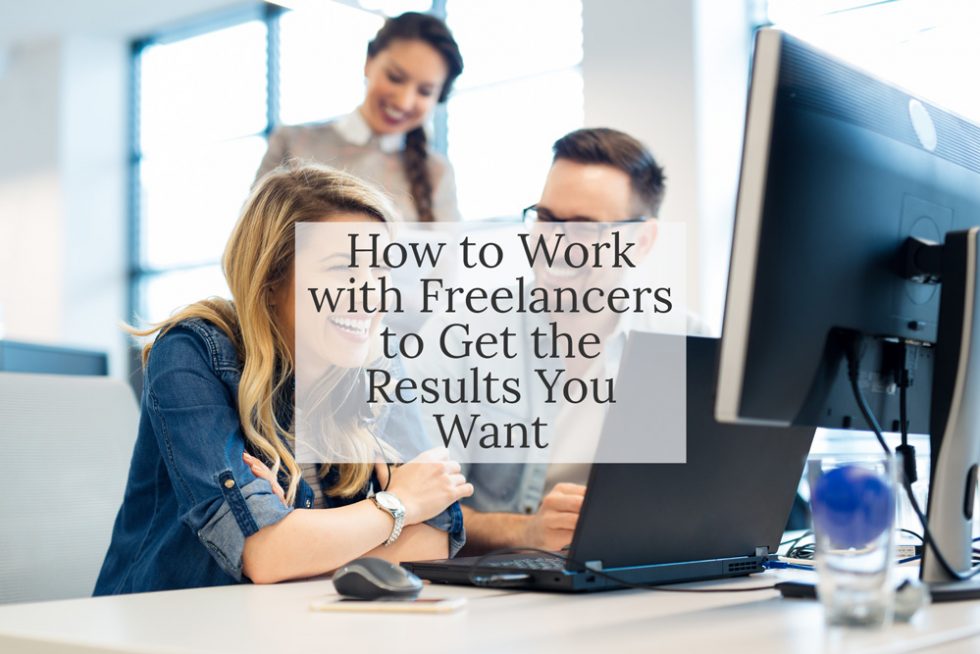 7 Tips for Building a Great Relationship with Your Freelancer
A freelancer can be a powerhouse of productivity, a lifesaver during crunch time, and an all-around great asset to bolster your business' outputs without hiring another full-time employee.
Since freelancers generally specialize in areas of work they love, their results can be magical and your returns rewarding. Having a specialist on hand to get your campaign out the door, fill your website with quality content, or bring a new idea to life frees up your time and helps you grow your business faster.
However, working with freelancers can seem risky.
I get it!
I used to work with freelancers when I was in-house. And I've spent many years as a freelancer.
It can be unnerving knowing you're not a freelancer's only client. And it can feel like a big commitment of time to get them up and running.
However, there are some actions you can take to maximize your chances of a great experience with your freelancer. The right preparation, planning, and attitude will leave you well on your way to a mutually-beneficial and long-lasting relationship.
Here are 7 ways to ensure success with your freelancer:
1. Be thorough but swift in your search
If a freelancer comes recommended to you by someone in your business network or social circle, great! However, make sure you still do your homework.
It's a wise idea to ask for samples, hold a meeting, and dig further to ensure they're a good fit for you.
The more you can streamline this process the better. For freelancers, each hour spent doing unbilled work reduces their take-home. Yes, a good freelancer will factor in administrative time to their budget. However, drawing out the discovery process more than necessary might result in frustration.
Also, good freelancers book up fast. Sometimes months in advance.
2. Understand how rates works
Most freelancers bill by the project as opposed to by the hour. Being quoted a set project rate means you don't need to worry about costs going up — even if the project takes more time than expected.
Before you initiate any conversation with a freelancer, it's important to have a realistic budget and rate-range in mind. The key here is to be realistic and remember that you get what you pay for.
Curious about the going rates? Check out What To Pay A Writer by the Professional Writers Association of Canada (PWAC).
3. Set clear expectations and timelines
While this might seem obvious, it's also commonly where things fall apart.
To avoid disappointment, it's critical to provide your freelancer with direction and instruction — including a very clear timeline.
This can be accomplished in a number of ways. A simple project may be best mapped out in an email, whereas a complex project with multiple phases or people may be best managed using a project management tool or time-tracking app.
And, always enter into an agreement before the project starts so that your terms and conditions are set in stone.
4. Provide brand guidelines or a creative brief
The more context, insight, and information about your business that your freelancer has access to, the greater the chances of rockstar results.
Since freelancers aren't full-time employees and they don't spend every day in your office, you should expect they'll need more initial support to get accustom with your business. Provide any documents you think will help them understand your unique selling proposition, your marketing strategy, your brand guidelines, and so on.
As you establish your relationship, a good freelancer will quickly pick up on your company's values and needs.
5. Ask for work in small chunks if the project is large
To avoid disappointment, it's a good idea to ask for work to be delivered in bite-sized chunks, and pay 50% of the fee upfront and 50% upon delivery of the final product.
This is especially true if you hire a freelancer to take on a large project. It'll allow you to gauge their work early on and provide course-correction if needed.
6. Provide useful, timely feedback
Similar to full-time employees, any good freelancer will love helpful, constructive feedback.
In fact, if they're professional and serious about what they do, they'll most likely ask you for ongoing comments.
Be honest and fair — nurturing your relationship, while also demonstrating that you expect high-quality results. This brings value to both parties' work.
7. Pay on time
Remember that freelancers don't get regular bi-weekly paycheques.
Their work may fluctuate month-to-month or season-to-season.
Paying your freelancer on time will not only show that you value their work, but will also set the stage for a long-term, mutually-beneficial relationship.
In Summary…
By leveraging the power of freelancers, you can grow your business faster, and for less cost than hiring a full-time employee.
Learning how to work with freelancers effectively can set you up for growth and success.