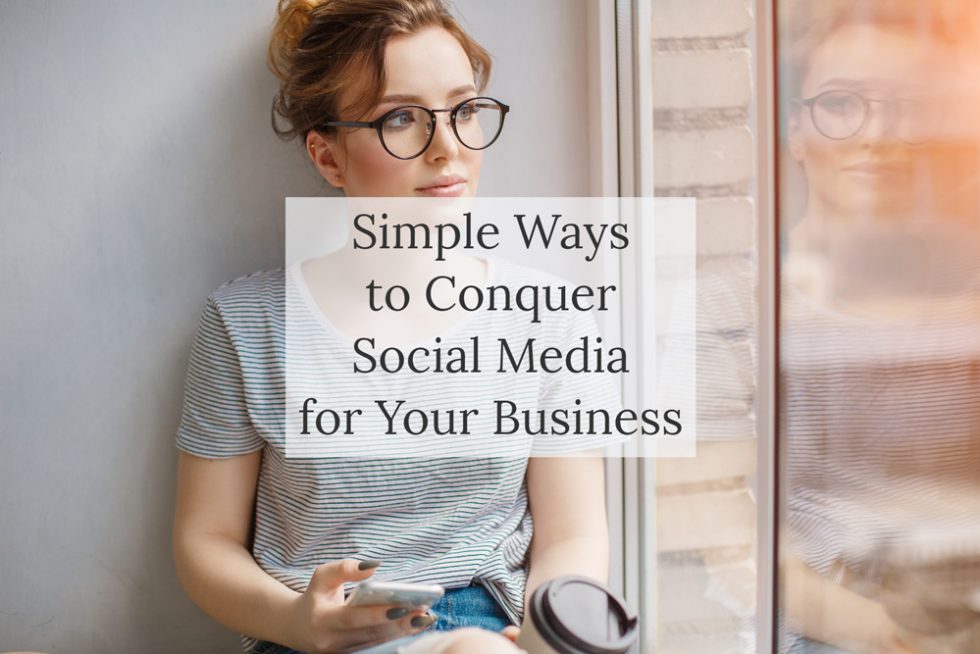 4 Simple Ways to Conquer Social Media for Your Business
Have you avoided using social media to grow your business because it overwhelms you?
Maybe you don't know where to start, or what to post about. Maybe you're worried that you'll put a lot of effort into it but you won't get any followers or likes. Perhaps you are worried that you simply don't have enough hours in your day to give it the attention it needs.
Social media is a scary place if you've never used it for business before. There are so many platforms to choose from, so many competitors vying for your audience's attention, and so many social media gurus spouting advice on what works best. It's hard to know where to begin.
The truth of the matter is that social media isn't nearly as scary as it seems – especially with the right tools in place.
In fact, once you set up your accounts and get in the swing of things, you may find that you actually quite enjoy it! Getting engaged in your industry's community and finding new customers can quickly become exciting.
So, where do you start?
Right here!
Here are some of my favourite tips and tools to get you going and to maximize your social media presence.
1. Choose your usernames wisely
Before you sign up for social media accounts, do some research on what usernames (or "handles") are available.
It's incredibly helpful to have the same username across all of your social media platforms. That way, it's easier for your customers to find you and remember. Also, when you add your social media information to your business card or email signature, you just need to add one username.
2. Pick your platforms with care
When you're just starting out, the worst thing to do is to stretch yourself thin.
Choose 2 to 3 social media platforms to focus on, and channel your efforts there. Doing so will allow you to learn the platform, discover your community, grow your presence, and see results – quicker and more easily.
So, which platforms should you choose?
The major players are currently Facebook, Twitter, Instagram, LinkedIn, and YouTube. There's also Pinterest and Medium.
Each appeals to a different audience in a different way. Some are more text focused (like Twitter and Medium), while others are more image focused (like Instagram and Pinterest). If you're looking to reach a B2B audience of professionals, LinkedIn is where most you'll find them. Facebook has the largest following, so the most potential for reach, while YouTube has the market for video. Finally, Pinterest is where many bloggers and designers hang out.
3. Decide what to post
Figuring out what to post is your next step.
This is where many people stall, feeling overwhelmed by the noise on social media and wondering how they'll possible be heard.
Rather than worry about it, it's better to channel your energy into action – which starts with planning!
Imagine who your audience is and think about what it is they'd like to see or read about on your social media channels. Chances are, they probably want to be entertained and informed. They probably want to feel connected. What they don't want, on the other hand, is to be sold to. No one wants to open up their Facebook account and see ad after ad, displayed in a way that is meaningless or disconnected from their life.
There are lots of rules and formulas out there about what to post to each of the platforms, but the simple way to go about it is with a gut check.
If you were the audience, would you like to read your posts? Are they fun? Are they useful? Do they have a magnetic image to draw the eye to? Do they sound like you? Would you like or share them with your friends?
4. Automate! Automate! Automate!
It's true that social media can quickly take over hours in your day that are probably better spent elsewhere.
To avoid this (while maximizing your presence), there are several amazing tools you can use to automate the process. I'm not talking bots that mindlessly troll accounts. I'm talking tools that you can use to tailor and refine your social media efforts, making your life easier. Here are some of my favourite:
Hootsuite – This tools is the most widely used for scheduling posts across different channels, measuring results, and listening to other accounts. Acting like a dashboard, it truly does it all. Hootesuite also offers great courses and free webinars to help you brush up on your skills.
Buffer – Buffer is similar to Hootesuite but it allows more flexibility on scheduling and provides built-in tools to create content, while focusing less on listening. It also has browser extensions that lets you add content to your queue as you come across it on the internet.
IFTTT – Meaning "if this then that", this powerful tool allows you to set up actions that will be automatically taken if something happens. With thousands to choose from, some examples are "Post your Tweets to Facebook when you use a specific hashtag", "Tweet your Instagrams as native photos on Twitter", and "Add your Instagram photos to a Buffer queue".
After a few hours of initial set up and a little practice, you'll be well into the social media world!
In Summary…
Remember: like anything in business, social media is a marathon not a sprint. Keep chipping away at it. As you invest time strategically, you will start to see the rewards for your business.
Do you have tips of your own you'd like to share? If so, I'd love to hear!